TOURS FOR YOUR WEDDING GUESTS  

What will your out-of-town guests do between the rehearsal dinner and your Staunton-area wedding? Offer them a unique experience in this lovely, historic town. Let Staunton Guided Tours help!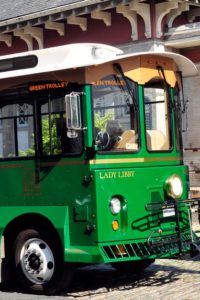 You have a lot of options!
Keep it Simple: Just tell your guests about our 45-minute Narrated Trolley Tour at 11 am Saturday morning. Begins at the Visitors Center on South New Street, touches on all five of Staunton's districts on the National Register of Historic Places. Shared use of trolley, $15 per person, Dutch treat. Walking tour of downtown may also be available.
Keep it Simple, Your Treat: The tour as above. Just tell your guests to let us know they are part of your wedding celebration. We bill you for those who join us. Prior arrangements needed. Shared use of trolley, $15 per person. Walking tour of downtown may also be available.
Your Own Schedule: We arrange a trolley tour (shared use) or a walking tour of downtown (exclusive) at a time you pick. Historic districts only; shared use of trolley. Fee to be set. Limited number.
Exclusive: Rent a limousine for a private tour—just your guests. Help us design the route, sights. Tour might include downtown/historic district places special to you two: your school, the place you met, your favorite restaurant, your wedding church, Trinity Church with 12 stunning Tiffany windows (subject to availability). Call or email for pricing information.
More options: You design it; we work with you to make your dream come true.
Be sure to check out our 3-minute video tour…  Get a taste of what you might see.  You'll quickly see why Staunton is a wonderful place to visit. 
GIVE US A CALL. ASK QUESTIONS. TOURS BY APPOINTMENT.
Call us at 540-569-8244, or email us.  We'd love to hear from you and we will get back to you.
E-mail us at [email protected]